This is the most popular feature (within the very relative confines of that word as it relates to this). A look at things I want to shine some light on - not everything I'm going to do, and not quite (as the old version was) everything I'd do if money and time were no object.
These are my top 5 suggestions for the week in question - named for my great pal Fred Pfening and named long before it was born, by A., who suggested "Rick's going to have a blog called 'Hey, Fred! Here's what's coming to town...' - whatever media strike my fancy. It could be all theater one week, it could be all films or all readings or all gallery shows, but most weeks will include some if not mostly music - I hope to spark some conversations and get people excited about what I'm excited for. If you read this, let me know what would make this more useful to you. As well, if you get any value out of this, please send me links/invite me on Facebook/send up a carrier pigeon to let me know about your events.
Music
March 16: Perfume Genius with Jenny Hval. Wexner Center, 1871 N High St. Perfume Genius has made some fascinating records and is a great live show but I'm here to lobby you to show up early enough for Norway's Jenny Hval. I got turned onto her with an article in The Wire in 2011, and bought her record
Viscera and was blown away by it almost immediately - it's rare to see a first album (I never heard her early work with rockettothesky) come out with that particular kind of bang, so fully formed, such an internal, personal work with such fangs bared for the world. When I got to see her the next year at Issue Project Room as part of New York's offshoot of the Unsound Festival, the perception and awe were only amplified. Her second record Innocence is Kinky added thicker grooves and backbeats and sharpened that idiosyncratic voice without sacrificing one iota of the weirdness and charm and her performance supporting it at last year's Big Ears Festival was the most intensely pure rock - but without the baggage that term sometimes countenances - I saw at that entire festival. It's a delight seeing her on bigger tours opening for acts like St. Vincent and now that she's signed to acclaimed US label Sacred Bones, who have put out some of my favorite music for the last few years, I can't wait to see what comes next. Starts at 8:00pm. $15 Tickets available at https://wexarts.org/tickets/1379
March 16: Torche. Skully's, 1151 N High St. Steve Brooks' stoner-metal juggernaut Torche has expanded its range and its melodic reach over the last few years and while I haven't dug into their new one,
Restarter, yet - all accounts say it's a worthy followup to their masterpiece Harmonicraft. Especially since drafting second guitarist Andrew Elstner from St Louis's Riddle of Steel and Tilts, Torche has had an interest in big, sweeping, exciting melody without sacrificing the crunching, grinding riffs they came from. In a room with one of the best sound systems in town - when handled well - this should be a third-eye opener. Nothing and Wrong open. Starts at 8:00pm. $15 tickets available at Ticketweb.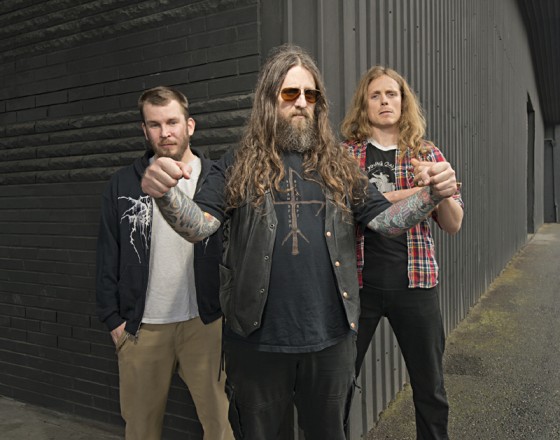 March 18: YOB. Ace of Cups, 2619 N High St. YOB is one of those bands that will knock the wind right out of your lungs. A mix of bone-rattling doom metal with a heavy overlay of transcendent psychedelia - long songs played like their lives depend on them. Their last show at Ace of Cups is one of the best shows I've ever seen there so their return to the venue is much-anticipated. Ecstatic Vision and Lazer/Wulf open.
Starts at 8:00pm. $15 Tickets available at Brown Paper Tickets.
March 19: Shannon McNally. Natalie's Coal-Fired Pizza, 5601 N High.
McNally is one of the finest exponents of the soulful strain of Americana. She first hit my radar touring with Ryan Adams, Son Volt, and Victoria Williams and popped back up on it with recent stints with Rodney Crowell, writing and recording with Dave Alvin, and a fantastic EP with Amy Lavere. Great narrative-based songs, terrific playing, and a voice that will stick under your skin for days. Starts at 9:00pm. $12 Tickets Available at Vendini.
March 21: Talisha Holmes Ensemble. Dick's Den, 2417 N High St. Talisha Holmes is one of my favorite singers in town. Full disclosure: I've known her since we went to High School together. It always did my heart good when news of what she was doing filtered down to me, teaching at Capital, adding perfect vocals to hard-driving party bands like Capital Sound or MojoFlo, her stunning work with J. Rawls' Liquid Crystal Project. But even as a fan, when I saw her solo work with the Ensemble at Brothers Drake about two years ago it blew my hair back. She's assembled a catalogue of songs that fuse the sensuous tension of '70s Roberta Flack and the Whitfield-produced Temptations with the irrepressible joyousness of classic Stevie Wonder, but using textures that work at a pleasantly orthogonal angle to those classic touchstones and creating utterly personal, utterly modern work. No part of this is a self-consciously retro thing. Also, she works with the finest musicians in town - sometimes including Brandon "Bjazz" Scott, Adam Smith, Ron Hope, and Kyra Curenton - and has a great ear for the perfect cover - I've heard her get me grooving to covers of songs I didn't even
like the original of (which will remain nameless). Seeing her in a room like this for three sets is a treat. Also, as my birthday is in the middle of the following week - if anyone were inclined to buy me a birthday drink, this is where I can guarantee you I'll be after dinner with my better half. Starts at 10:00. $4 cover.