This is the most popular feature (within the very relative confines of that word as it relates to this). A look at things I want to shine some light on - not everything I'm going to do, and not quite (as the old version was) everything I'd do if money and time were no object.
These are my top 5 suggestions for the week in question - named for my great pal Fred Pfening and named long before it was born, by A., who suggested "Rick's going to have a blog called 'Hey, Fred! Here's what's coming to town...' - whatever media strike my fancy. It could be all theater one week, it could be all films or all readings or all gallery shows, but most weeks will include some if not mostly music - I hope to spark some conversations and get people excited about what I'm excited for. If you read this, let me know what would make this more useful to you. As well, if you get any value out of this, please send me links/invite me on Facebook/send up a carrier pigeon to let me know about your events.
Visual Art
Luminous Landscapes: New Work By Kellie McDermott and Carol Snyder. McConnell Arts Center, 777 Evening St.
Any time Kellie McDermott has a new slate of work to exhibit it's a cause for celebration. Her encaustic paintings use those layers of wax to create both a sculptural, sensuous feeling on the canvas but also a dreamlike, unsettling distance. There's an emotional heat that comes out of her barren but vibrating landscapes that intermingles with an unstuck-in-time quality you have to see in person. Carol Snyder's work I don't know very well, but the images I've seen of her landscape-inspired pottery seem like they'll be fascinating in juxtaposition with the other work and I can't wait to see them in the flesh.
Opening March 6th, 6:00pm-8:00pm. Exhibition Runs March 6th-April 26th.
Theatre
Trouble in Mind by Alice Childress. OSU Theatre Department, Roy Bowen Theatre in the Drake Performance and Event Center, 1849 Cannon Drive.
Childress' 1955 play isn't performed often but it's a razor-sharp satire of where each of draws the line for our own principles, how ingrained prejudice hurts and diminishes everyone, and how easily the veneer of "well-meaning" can be ripped away. I comment OSU Theatre for tackling this almost-lost classic and I can't wait to see it.
7:30 Weeknights except Monday, 3:00pm matinées Saturday and Sunday March 4th-March 12th. For tickets and more info visit http://theatre.osu.edu/boxoffice
On the Edge: Short Plays by Samuel Beckett and Harold Pinter. Short North Stage, 1186 N High St. For other theatre nerds, this is a stone delight. Four rarely staged short plays by Samuel Beckett and Harold Pinter staged in the green room of Short North Stage's Garden Theater. The Pinter plays are "Victoria Station", in which a cab driver and his controller argue over a pickup to the titular station, drenched in black humor and, like all Pinter, about far more than it seems on the surface; and "The Collection" about the shifting tectonic plates of an infidelity which has sometimes been seen as a trial run for his more acclaimed Betrayal; and "Night", a sketch about how people fall in love and how it's remembered. The Beckett is "Rockaby", which is a one woman play that serves as a fascinating repetition-driven look at aging. 8:00pm Thursday-Saturday, 2:00pm Sunday, March 5th-March 15th. For tickets and more info visit http://www.shortnorthstage.org/calendar/v/406
Music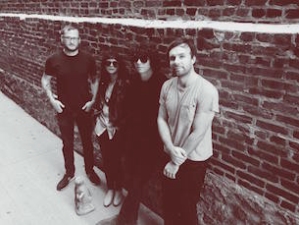 March 2: Shilpa Ray. Rumba Cafe, 2507 Summit St. I've been a big fan of Shilpa Ray since she was in Beat the Devil and loved both her records as Shilpa Ray and her Happy Hookers. But I saw her with her new backing band at Cameo Gallery in Brooklyn last fall and can attest she's found a new level of purity and focus without sacrificing any of the rage or any of the delicious weirdness. At times it harkened back to a knives-sharpened Patsy Cline not unlike Neko Case, at times it conjured mutant disco, and at times it just flat-out rocked. Locals Dana, who I've heard fantastic buzz regarding, open. Doors at 8:00pm. $10 tickets available at Ticketweb.
March 8: Kevin Morby and Ryley Walker. Double Happiness, 482 S Front St. Morby and Walker are two singer-songwriters at the forefront of the latest wave bubbling over the edges of the new weird America. Kevin Morby has a smoother voice and accessible melodies but he never lets go of the mysteries in the song, he's not interested in a perfectly workshopped piece. Ryley Walker mines Bert Jansch-y territory not unlike early Six Organs of Admittance but with classical and jazz inflections that can shift right out of your grip, recalling James Blackshaw one second and his peer William Tyler the next, with riveting arrangements and a subsumed but never gone love of drone. A show on an early Sunday night that's your chance to get clean and reset for the next week. Starts at 8:00pm. $8 tickets available at Ticketfly.