This is the most popular feature (within the very relative confines of that word as it relates to this). A look at things I want to shine some light on - not everything I'm going to do, and not quite (as the old version was) everything I'd do if money and time were no object.
These are my top 5 suggestions for the week in question - named for my great pal Fred Pfening and named long before it was born, by A., who suggested "Rick's going to have a blog called 'Hey, Fred! Here's what's coming to town...' - whatever media strike my fancy. It could be all theater one week, it could be all films or all readings or all gallery shows, but most weeks will include some if not mostly music - I hope to spark some conversations and get people excited about what I'm excited for. If you read this, let me know what would make this more useful to you. As well, if you get any value out of this, please send me links/invite me on Facebook/send up a carrier pigeon to let me know about your events.
Literary
April 10/April 11: Writer's Block Poetry All Nighter. Kafe Kerouac, 2250 N High St.
It's National Poetry Month so I'm going to try hard to find at least one thing a week to point you toward. This event grew out of Scott Woods' legendary 24 hour poetry readings, retired after a staggering 5 year run and turned into a fundraiser for his long-running and influential Writer's Block night and a showcase for the city's robust and diverse poetry scene as a whole. The schedule's still getting filled out but of what's announced there are a handful of sets I recommend without any reservation: both of Woods' own sets 2-2:30am and 10-10:30am, Louise Robertson's closing set 1:30-2:00pm, Ed Plunkett at 8:30pm, Charlene Fix at 8:45pm, and the half hour of erotic poetry at midnight.
Starts at 8:00pm April 10 and goes through 2pm April 11. Free show.
Visual Art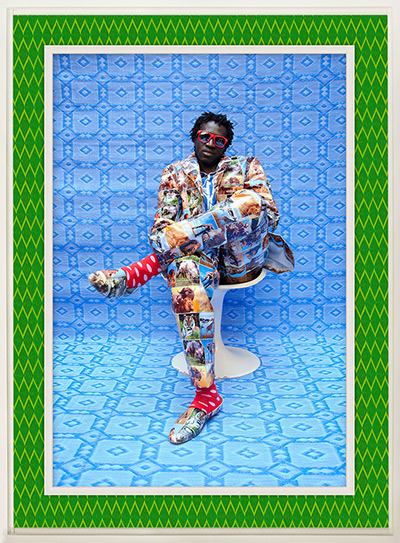 April 8: Hassan Hajjaj Talk. Wexner Center for the Arts, 1871 N High St. Moroccan-born and London-based artist Hajjaj's installation at the Wex currently, My Rock Stars Experimental, Volume 1, is an intoxicating look at artists like Jose James and Marques Tolliver in a rotating video that will suck you in and not let you go for hours. He brings a refreshing, relevant and electrifying voice and aesthetic to the art world that remembers that the word world is equally important in that phrase. With this work closing at the end of the weekend, his talk is a chance to revisit the installation and get to hear about his work from the source. Starts at 4:30pm. Free.
Music
April 6: Cory Henry and the Funk Apostles with the Nth Power. Woodlands Tavern, 1200 W 3rd Ave.
Cory Henry, keyboardist from Snarky Puppy, has branched out from the gospel tinged organ trio work of his early solo recordings to paint with a more expansive, roiling funk palette that still makes lots of room for his jazz background. The Nth Power features a lineup with heavier roots in the jam band scene including Nikki Glaspie and Nick Cassarino but they have a defter understanding of dynamics and space than much of that scene. This should be a funky good time par excellence for those brave souls out on a Monday (and still standing after the NCAA championship or MLB opening day).
Starts at 8:00pm. $15 tickets available at Ticketweb.
April 8: Jim Lauderdale. Woodlands Tavern, 1200 W 3rd Ave.
One of the finest country songwriters to emerge in the '90s, Lauderdale's sticky melodies and razor-sharp observational lyric writing enlivened records by everyone from Jack Ingram to the Derailers, Patty Loveless to the Dixie Chicks, Blake Shelton to Kelly Willis, before we even get into his massive hits for George Strait. In the dark days when the lines seemed drawn with barbed wire between Nashville country and the alt.country movement, Lauderdale not only traversed both sides of the line with more ease than anyone except maybe his friend and collaborator Buddy Miller, but his name in the credits was as close to a sure thing as a fan of pure
song
was likely to be assured by. He records more under his own name now, ranging from bluegrass to Bakersfield to acoustic singer-songwriter records, which is a very, very good thing - his
Whisper
on BNA in 1998 is maybe the finest mainstream country record nobody really heard. And he's an astonishing live presence - his Sunday matinee show at Little Brothers about 15 years ago might be the finest single singer-songwriter show I've ever seen. If this isn't magic on that gorgeous-sounding PA at Woodlands, I'll eat my hat. Roots-rocker Erica Blinn opens and word is she's in the early stages of a new record so be hopeful for new songs getting an early test run.
Starts at 8:00pm. $20 Tickets available at Ticketweb.
April 12: Laura Andrea Leguia's Saxofon Criollo. Natalie's Coal Fired Pizza, 5601 N High St.
Natalie's has been killing it of late with a couple of my favorite shows so far this year, the debut of James Gaiters' Soul Revival and last Friday's spell-binding Six String Drag performance. Their weekend lineup this week features two shows by Gabriel Alegria's hard driving Afro-Peruvian Sextet but for my money the crown jewel is saxophonist Laura Andrea Leguia's side project playing a brunch show on Sunday - Saxofon Criollo. Leguia's a deep-thinking composer and reeds player with a rich, spiky tone, and student of coastal Peruvian music and this trio finds her playing with guitarist Yuri Juarez (Susana Baca, Javier Lazo) and percussionist Freddy "Huevito" Lobaton (Guajaja, Maria Schneider Jazz Orchestra). If this doesn't cure whatever's wrong with you by Sunday morning, there might not be any hope.
Starts at noon. Free.